SOW & GROW GIFT SETS
Our mini Sow & Grow Gift Sets include a Sow & Grow Tin together with a colourful felt plant mat and are neatly packaged in a larger gift box lined with colour co-ordinated tissue paper making a lovely gift to cheer up a friend or relative.
Sow & Grow Tins are dinky little tins packed with nutrient rich soil on a thin layer of potting grit. They come with a mini hand painted plant label and foil wrapped seeds ready to sow as soon as the lid is opened. Our Sow & Grow Tins are also included with all our feel better gifts are packaged in their own little gift box.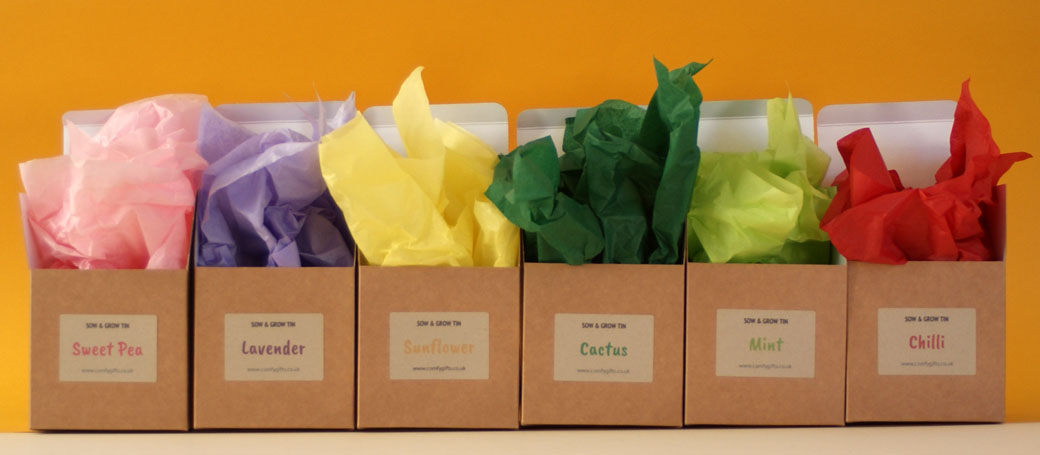 THERAPUTIC FEEL BETTER GIFTS
The act of planting the seeds and the pleasure of seeing them grow is said to be theraputic, can lift someone's spirits and make them smile making ideal gifts for those in need of cheering up, recovering from an illness, injury or a stressful time.
SOW & GROW TIN VARIETIES
Choices for our grow your own flower tins are currently pretty sweet pea, fragrant lavender and especially for children, a cheery sunflower or a spiky cactus plant. Our grow your own herbs selection includes refreshing, cooling mint or try chilli if you prefer something a bit hotter.
GIFT IDEAS FOR FRIENDS AND FAMILY
Send a Sow & Grow Gift Set to friends or family, they look great on the windowsill at home and as they grow they will remind loved ones you care about them.
GIFTS FOR WORKMATES
Our little Sow & Grow Tins look great on your desk at work, compete with your colleagues to see who can grow the best chilli plant or the tallest sunflower!